If you are about to get your home renovated then one of the most important projects would be to find an electrician who would ensure that all your electrical work is up to the same standard and level as your interiors. It can be quite a challenge but with a set list of considerations, you should be able to shortlist the right electrician for your home improvement projects. Here are a few criteria that you should keep in mind while finding a home improvement electrician.
Ensure that they are the absolute expert in Domestic Electrical Work
Since your home improvement project is a residential electrical work project, it is really crucial that you don't end up hiring commercial or industrial electricians, who might have a tonne of work experience in their relevant field but will feel clueless when it comes to your project. So you need to ensure that the electrical team that you would be working with for your electrical project has domain authority in domestic electrical work, repair, and installation. This way you will know that you are working with the best and can rely upon them for their suggestions. Also, they won't need any hand-holding because they will be self-sufficient to see your project through completion from start-to-finish. For example, if you are renovating a study table, then your domestic electrician would be able to tell you which is the most suitable light for the optimum productivity and comfort in that area. They can also suggest pendant lights or downlights which will add to the ambience of your study space and thus you are able to work with an electrician who gives valuable inputs every time you are collaborating on a project.
Check out their Home Improvement Projects
Once you have a list of few domestic electricians in your area, you need to go to their website and look at their work portfolio. Mostly, try to find pictures of their completed (finished) electrical projects so that you can ascertain that their quality of work is in sync with what you are looking for. When you are reviewing your potential electrician's electrical work portfolio, you can check whether:
The finishing of the completed electrical work is up to mark. There should be no wires jutting out of the corners.
It is all done in accordance with the local rules and regulations so that your safety is ensured.
The products used are of a standard quality so that it will last for a long time to come and won't give you any trouble in the near future.
The project scope and the finished work is in sync. It shouldn't be that the customer asked for something and the electrician did something entirely different.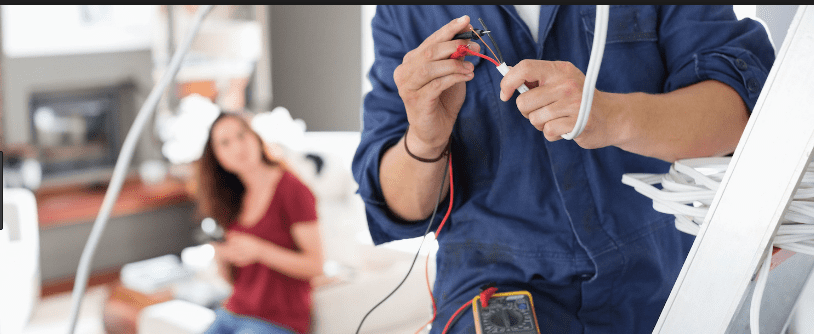 Do they have Online Reviews to match their claims?
After you have a few electricians whose projects you really like and think that they will be able to help you to renovate and improve your home electrically, you need to vet them. You can do this by reading online reviews of their finished projects. Usually, when you search for an electrical company (or any other business), if it is listed as a 'Google Business Listing' then you will see a wide range of reviews in a listicle format on the right-hand side of your computer screen. Read as many reviews as possible. Check whether they are genuine. If a lot of people have good things to say about the electrician and their electrical work, then you can rely on them to deliver exceptional quality of electrical work for your home improvement project. Make sure to work with only the best because you won't go about upgrading and changing your home every other day. It's a long-term project which will have a real impact on your day to day life, so it is always worth working with an electrician who knows the ins and outs of the latest electrical trends, smart home technology, and easy installation hacks so that your life is made more functional, more comfortable, and safer.
Lastly, no matter what sort of home improvement project you are working on, it is always nice to be working with someone who CARES. It is such a basic thing that is often overlooked, but make sure that when you hire your electrician he/she doesn't just have the technical aptitude required for the job, but comes with a caring nature so that he/she will go above-and-beyond for your electrical home improvement project.